JUANA MOLINA "Wed 21" out October 28th
The bewitching JUANA MOLINA is back with "Wed 21",
a terrific album, in which all the various threads she's previously explored are masterfully woven together with new elements to create a mischievous, playful, joyous series of songs, brimming with surprises.
On October 28th, we will release "WED 21" the new recording by Juana Molina on CD
and a special limited edition vinyl 2 LP (only 500 to be released worldwide!)
We invite you to order yours here.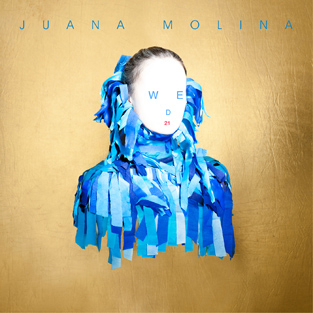 Here are some of the first press reviews:
The 1st single, "Eras", was named "Best New Track" by Pitchfork
"A twisting, live wire of a song that takes the listener's attention hostage and runs off into the woods" (Pitchfork)
"Eerie, hypnotic, building to increasingly haunting heights" (Spin)
"This might be her best work yet. Good to have her back" (Mixmag, UK)
"Juana Molina has stepped beyond the boundary of self to become the presiding authority for a genre" (Arts Desk, UK)
"On an evolutionary journey of her own devising…Transportative, like a fantastic fable…like all good storytellers, Molina's gift is in the delivery" (Pitchfork)
"... It's as if extra-terrestrials have had a bash at making contemporary Earthling pop music but didn't quite nail it."
And in this instance that's a charming if slightly sinister thing." (The Independent, UK)
"In perfect Juana Molina form" (NPR First Listen)