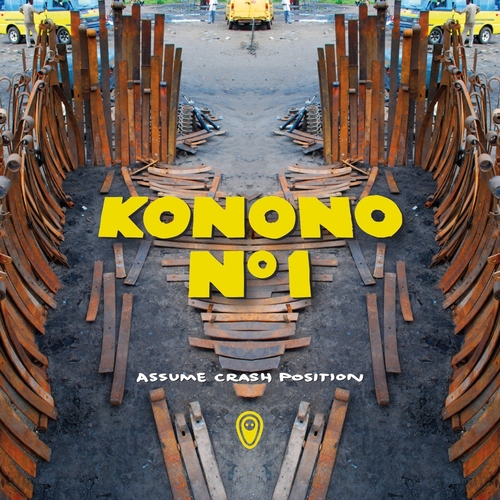 Assume Crash Position
Available Formats
Tracks
Price
Buy
CD Album
8 tracks

£

9.99

Download Album (

MP3

)
8 tracks

£

6.32

Download Album (

FLAC

)
8 tracks

£

6.32
Description
Konono No.1 - Assume Crash Position
"Assume Crash Position" is the new album from Congolese street band Konono No.1, the fourth volume in the Congotronics series from Crammed Discs.

Once again recorded in their home domain of Kinshasa, DR Congo by Congotronics series producer Vincent Kenis, the long-anticipated follow-up to Konono's 2005 debut sees their trademark thrilling junkyard sonics and relentlessly hypnotic percussive grooves (as created using thumb pianos and drums made from scrap metal and disused car parts) further elevated with electric guitars and bass - played by neighbourhood musicians from a young Konono covers band! - as well as a wider range of vocalists plus guest appearances from guitarist Manuaku Pepe Felly (Zaïko Langa Langa) and members of fellow Congotronics band Kasai Allstars.

The band's music is and will always be a very precise mixture of traditonal bazombo trance music with the distortion of their modern home-made equipment... but their sound on "Assume Crash Position" is somehow deeper, more layered and ethereal, without losing any of that signature raw power and driving energy. Those gloriously extended full band tracks take off like never before - but also, for the first time, we hear Konono stripped right back to their essence: the album's final song, "Nakobala Lisusu Te", features just the band's founder and master, Mingiedi (now in his late-seventies) and his likembe. "I don't feel like getting married any more", he sings in sweet and mournful tones, "because women nowadays think marriage is just a six month affair".

The album title is a rough translation from the Kikongo meaning of "Konono", and if you've heard or seen the band in full flight before you'll have some idea of the ride you're in for here. If not - well, strap yourselves in...


Background
Konono N°1 was founded some 44 years ago by Mingiedi, a virtuoso of the likembe (the traditional instrument sometimes called "sanza" or "thumb piano", consisting of metal rods attached to a resonator). The band's line-up includes three electric likembés (bass, medium and treble), equipped with hand-made microphones built from magnets salvaged from old car parts, and plugged into amplifiers. There's also a rhythm section which uses traditional as well as makeshift percussion (pans, pots and car parts), singers, dancers and a peculiar sound system including megaphones dating from the colonial period, which they call "lance-voix" ('voice-throwers'). The members of Konono N°1 come from an area which sits right across the border between Congo and Angola. Their repertoire draws largely on Bazombo trance music, to which they've had to incorporate the originally-unwanted distortions of their sound system.
Worldwide reactions to their debut album Congotronics 1 were exceptional, and remarkably won the band massive favour in the dance and alternative rock scenes as well as in world music circles: they picked up a Grammy nomination for Live At Couleur Café, a concert recording released in 2006, and played to thousands at festivals such as Sonar, Coachella and The Big Chill. Meanwhile an army of celebrity admirers gathered, including Radiohead's Thom Yorke (who played a Konono track on BBC Radio One), Beck, Björk (whose album Volta featured a guest Konono performance), and Herbie Hancock, to whose forthcoming album they have also contributed.

Tracklisting
CD Album (CRAW 60.1)
Konono No.1

- Wumbanzaga

Konono No.1

- Thin Legs

Konono No.1

- Mama Na Bana

Konono No.1

- Makembe

Konono No.1

- Fula Fula

Konono No.1

- Guiyome

Konono No.1

- Konono Wa Wa Wa

Konono No.1

- Nakobala Lisusu Te
Download Album (CRAW 60.1)