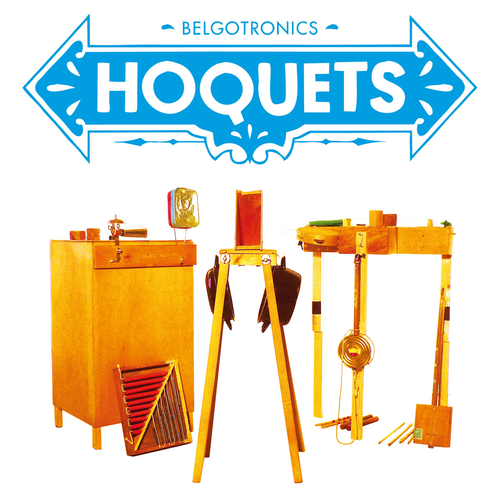 Belgotronics
Available Formats
Tracks
Price
Buy
CD Album
16 tracks

£

9.99

Download Album (

MP3

)
16 tracks

£

7.99

Download Album (

FLAC

)
16 tracks

£

7.99

Download individual tracks
From £0.79
Description
Hoquets - Belgotronics
Presenting a brand new, totally unique musical proposition: HOQUETS are an international musical trio who play instruments, also named "hoquets", personally assembled by hand from wooden boards, broken strings, tin cans and other cast away materials in their workshop in Brussels, Belgium. The band make music that's overflowing with energy, heavily percussive and strangely addictive... inspired by raw-edged indie pop and dancefloor punk-funk as well as the DIY aesthetic of Konono No.1, Staff Benda Bilili and other Congolese groups,HOQUETS are both without precedent and oddly familiar at the same time.

On their debut album "Belgotronics" (named in homage to the Congotronics series), HOQUETS pay tribute to specific aspects of their beloved native/adopted country of Belgium. The songs are devoted to remarkable elements of the country's history and culture, from its bizarre linguistic and institutional quirks to its rich culinary traditions: the Battle of Waterloo, multilinguism, the ancient beer-brewing abbey of Orval, the baked Wallonian biscuit know as the "Couque de Dinant" and many more under-celebrated facets of Belgian life all appear in the lyrics, which are sung in English, French and Flemish ... mostly by an American. More details on these subjects can be found in the Hoquets Holler, the entertaining and informative self-produced newsletter that accompanies the album.

"Belgotronics" was recorded in Brussels with engineers/sound designers Étienne Foyer, Frédéric Alstadt & Aymeric de Tapol, and mixed by Marc Meliá Sobrevias of Lonely Drifter Karen (who also appears as a guest musician), Greg Saunier (Deerhoof) and regular Deerhoof collaborator Etienne Foyer. Other musical guests include Lonely Drifter Karen's Tanja Frinta, underground Japanese improvisor Naoki Otani (Maher Shalal Hash Baz) and Yann Tambour (Stranded Horse, Encre).
Tracklisting
CD Album (CRAM 175)
Hoquets

- La Belgique

Hoquets

- 3 Regions 3 Communautes

Hoquets

- Couque de Dinant

Hoquets

- 1815

Hoquets

- Gentse Speciaal

Hoquets

- Dans Van Baarle

Hoquets

- Brussels Is The

Hoquets

- L'Abbaye d'Orval

Hoquets

- Beni B

Hoquets

- Nationalestraat

Hoquets

- Bruges

Hoquets

- Stoemp

Hoquets

- OTANATO

Hoquets

- Chaud Boulet

Hoquets

- Cha-Cha-Charleroi

Hoquets

- Maitrank
Download Album (CRAM 175)