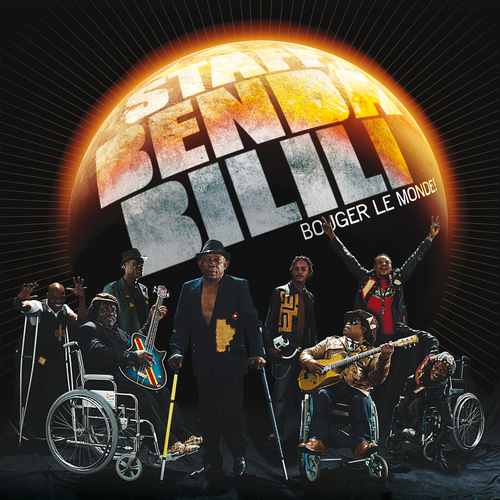 Bouger Le Monde!
Available Formats
Tracks
Price
Buy
CD Album
11 tracks

£

9.99

Download Album (

FLAC

)
11 tracks

£

7.99

Download Album (

MP3

)
11 tracks

£

7.99

Download individual tracks
From £0.79
Description
Staff Benda Bilili - Bouger Le Monde!
This new album, recorded once again in Kinshasa, DRC, contains a collection of 11 superb songs, and benefits from the musical transformations which gradually took place during Staff Benda Bilili's 350+ shows: the band are louder and rockier, their level of musicianship has further risen, and the adjunction of three new members brings richer textures and added excitement to the arrangements: drummer Montana had joined the band right after the recording of the 1st album, lead guitarist Amalphi is a new recruit, and young percussionist Randy (who played with the Staff when he was a kid, and later vanished for a couple of years) is back in force.

"Bouger le monde" wonderfully translates the band's new sound: it's more powerful and sophisticated, yet retains and showcases all the idiosyncratic qualities of their makeshift instruments, and is as lyrical and moving as it ever was.

The album was produced once again by Crammed's Vincent Kenis (of Congotronics fame) who, this time, didn't set up his mobile studio in the zoo, but in the old Renapec studio, where legendary rumba/soukouss stars such as Franco, Tabu Ley, Papa Wemba and Pepe Kalle recorded some of their best work.
Tracklisting
CD Album (CRAW81)
Staff Benda Bilili

- Osali Mabe (album version)

Staff Benda Bilili

- Sopeka

Staff Benda Bilili

- Bilanga

Staff Benda Bilili

- Tangu I Fueni

Staff Benda Bilili

- Kuluna / Gangs

Staff Benda Bilili

- Djambula

Staff Benda Bilili

- Libala Ya Mungwa

Staff Benda Bilili

- Souci

Staff Benda Bilili

- Apandjokwetu (2012 version)

Staff Benda Bilili

- Ne Me Quitte Pas

Staff Benda Bilili

- Mutu Esalaka (The Brains Are OK)
Download Album (CRAW81)