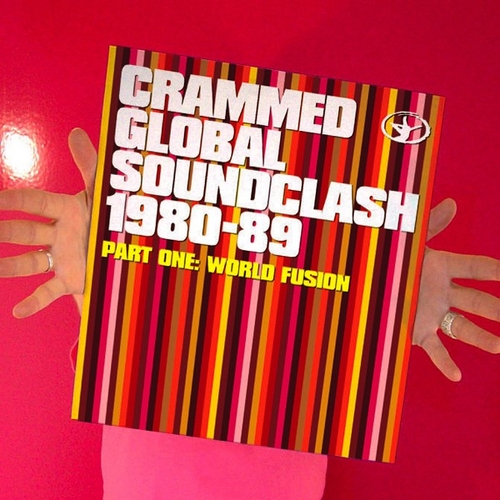 Crammed Global Soundclash 1980-89 Vol. 1 - World Fusion
Available Formats
Tracks
Price
Buy
CD Album
35 tracks

£

7.99

Download Album (

MP3

)
35 tracks

£

7.99

Download Album (

FLAC

)
35 tracks

£

7.99
Description
Various Artists - Crammed Global Soundclash 1980-89 Vol. 1 - World Fusion
Since the early '80s, the Crammed label has been exploring new forms of musical fusion, mixing elements of world, rock & electronic music, and often anticipating the musical movements which bloomed during the next two decades. Crammed have now re-issued 12 essential albums from that fertile and exciting period period.

The series consists of 14 releases: a double compilation and 12 artist albums (some of which had never been released on CD, including the long-awaited Honeymoon Killers album and the first Aksak Maboul opus, which laid the foundations of the Crammed aesthetics).

The Crammed Global Soundclash compilation is an introduction to the label's own strange '80s. It features a total of 57 tracks or fragments, by artists from Congo, the UK, Iran, Japan, France, Iraq, Belgium, Norway, Israel, Ethiopia & the USA, and was compiled and mixed by Crammed originator Marc Hollander.
Each of the two volumes explores a slightly different aspect of Crammed's '80s output, as witnessed by the subtitles (World Fusion and ElectroWave). These volumes are being released separately, and are also included in a limited-edition boxed set featuring a bonus CD with four brand-new remixes of '80s tracks, and a 52-page illustrated diary of "the '80s according to Crammed".

Reviews
"Staggeringly diverse re-releases from Belgian label ten years ahead of its time" (Uncut, UK) "Unique and unrivalled" (Le Monde de la Musique, France). "Iconoclastic and visionary... " (Les Inrockuptibles, France). "Original and visionary" (Update, UK). "Visionary...quasi-prophetic..." (Magic, France). "20 years ahead of its time" (Rolling Stone, France). "To this day, Crammed remains an obscure object of desire" (Coda, France)
Tracklisting
CD Album (CRAM 113)
Zazou Bikaye

- Munipe Wa Kati (CGS)

Lew & Brown

- Dans Les Jardins (CGS)

Hector Zazou

- L'Apparition (CGS)

Foreign Affair

- Jounieh (CGS)

Zazou Bikaye

- Mangungu (CGS)

Benjamin Lew

- Hommes Assis Devant Un Mur Chaule (CGS)

Deyhim|Horowitz

- Ishtar (CGS)

Hector Zazou

- Vera C. (CGS)

People In Control

- When It's War (CGS)

Mahmoud Ahmed

- Sidetegnash Negn (CGS)

Peter Principle

- Sub-Lunar Folly (CGS)

Bel Canto

- The Glassmaker

Peter Principle

- Le Maka

Aksak Maboul

- Milano Per Caso (CGS)

Zazou Bikaye

- Mama Lenvo (CGS)

Nadjma VS Adrian Sherwood

- Ravishments In The Seraglio (CGS)

Hector Zazou

- Cine Città (CGS)

Family Fodder

- The Big Dig (CGS)

Foreign Affair

- Bonus b/EA/S/T (CGS)

Deyhim|Horowitz

- Desert Equations (CGS)

Tuxedomoon

- In A Manner Of Speaking (CGS)

Peter Principle

- Tippi Rider (CGS)

Aksak Maboul

- Retour Chez Les Futuristes (CGS)

Daniel SchellL

- Un Celte (CGS)

Minimal Compact

- Hole Version (CGS)

The Honeymoon Killers

- Decollage (CGS)

Lew & Brown

- Bamako Ou Ailleurs (CGS)

Tuxedomoon

- Volo Vivace (CGS)

Sonoko

- Sunny Day (CGS)

Poto Doudongo

- Bolingo (CGS)

Aksak Maboul

- Scratch Holiday (CGS)

Minimal Compact

- Low Flight (CGS)

Tuxedomoon

- The Waltz (CGS)

Sonoko

- Romeo Sama (CGS)

Hermine

- Blue Angel (CGS)
Download Album (CRAM 113)