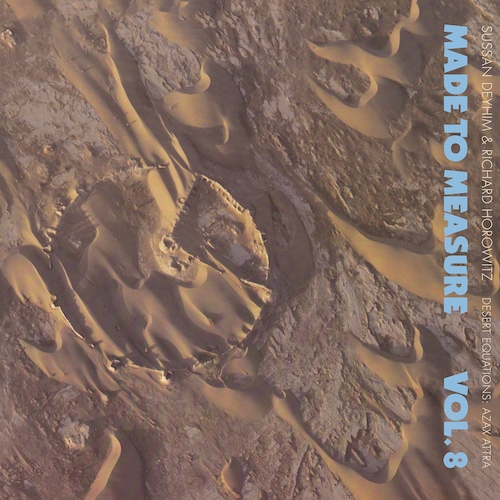 Desert Equations: Azax Attra (Made to Measure Vol.8)
Available Formats
Tracks
Price
Buy
CD Album (Remastered)
11 tracks

£

12.00

12" Vinyl Album (Remastered)
9 tracks

£

20.00
Description
Sussan Deyhim & Richard Horowitz - Desert Equations: Azax Attra (Made to Measure Vol.8)
When it first appeared in 1986, the Desert Equations: Azax Attra album was greeted with enthusiasm, awe and disbelief: nobody had done anything quite like that before, and this dizzying, inspired blend of Persian tradition, New York avant-garde and electronic music remains incomparable, powerful and mesmerising to this day.
Combining the sublime voice of Iranian vocalist Deyhim and the electronic wizardry of US composer Horowitz, Desert Equations wonderfully blends the duo's multiple sources, including their experiences at the epicentre of New York's early '80s avantgarde music and theatre scene, Sussan Deyhim's intimate knowledge of traditional Persian music and its reverberation in modern Iranian arts, and Richard Horowitz's background in jazz (he spent time with Paris-based US freejazz expats in the '70s, and played with Braxton, Steve Lacy and Alan Silva), electronics and the folk music of Morocco (where he lived for a while).
This haunting and futuristic album prompted writer Paul Bowles to wonder: "Was this composed under the influence of Majoun?". It then convinced filmmaker Bernardo Bertolucci to entrust the soundtrack music for film adaptation of Bowles' cult novel The Sheltering Sky movie to Richard Horowitz (which earned him a Golden Globe), and also led to a series of music/theatre Azax Attra performances at New York's iconic experimental La MaMa Theatre.
This 2021 remastered reissue includes three previously-unreleased bonus tracks, and a rich booklet with photographs and extensive notes recounting the duo's fascinating life stories.
Sussan Deyhim and Richard Horowitz went on to record numerous albums, together and separately, including Majoun, Logic of the Birds, Madman of God and Shy Angels (Sussan's albums devoted to Persian Sufi poetry), Possessed and Turbulent (Sussan's albums in collaboration with renowned visual artist Shirin Neshat), and La Belle et la Bête. Sussan Deyhim also worked with the likes of Peter Gabriel, Jah Wobble, Bobby McFerrin, Adrian Sherwood, Bill Laswell, Ornette Coleman, and Alexandre Desplats (on the soundtrack for Argo). Richard Horowitz collaborated with Jaron Lanier, Hassan Hakmoun, David Byrne, was the original artistic director of the Gnaoua Festival in Essaouira, wrote and recorded film soundtracks for Oliver Stone, Bob Swaim, and several Mococcan filmmakers including Nour Eddine Lakhmari, Faouzi Bensaidi & Souheil Ben Barka. Prior to Desert Equations, Richard had recorded and released two albums, including cult record Eros in Arabia (1981, recently reissued on NY label FTS/RVNG)
In April 2021, Deyhim and Horowitz have performed at the Nobel Prize Summit. Deyhim is currently collaborating on a new project by Philip Glass and filmmaker Godfrey Reggio (Koyaanisqatsi)."
Tracklisting
CD Album (Remastered) (MTM8 CD)
Sussan Deyhim & Richard Horowitz

- Desert Equations (for Brion Gysin) (Remastered)

Sussan Deyhim & Richard Horowitz

- Ishtar (Remastered)

Sussan Deyhim & Richard Horowitz

- Got Away (Remastered)

Sussan Deyhim & Richard Horowitz

- I'm A Man (Remastered)

Sussan Deyhim & Richard Horowitz

- Tear (Remastered)

Sussan Deyhim & Richard Horowitz

- Azax Attra (Remastered)

Sussan Deyhim & Richard Horowitz

- Jum Jum (Remastered)

Sussan Deyhim & Richard Horowitz

- Armour (Remastered)

Sussan Deyhim & Richard Horowitz

- Broken Vows (Bonus Track)

Sussan Deyhim & Richard Horowitz

- Midnight Visitation (Bonus Track)

Sussan Deyhim & Richard Horowitz

- Intergalactic (Bonus Track)
12" Vinyl Album (Remastered) (MTM8LP)
Sussan Deyhim & Richard Horowitz

- Desert Equations (for Brion Gysin) (Remastered)

Sussan Deyhim & Richard Horowitz

- Ishtar (Remastered)

Sussan Deyhim & Richard Horowitz

- Got Away (Remastered)

Sussan Deyhim & Richard Horowitz

- I'm A Man (Remastered)

Sussan Deyhim & Richard Horowitz

- Tear (Remastered)
Sussan Deyhim & Richard Horowitz

- Azax Attra (Remastered)
Sussan Deyhim & Richard Horowitz
- Jum Jum (Remastered)
Sussan Deyhim & Richard Horowitz
- Armour (Remastered)
Sussan Deyhim & Richard Horowitz
- Broken Vows (Bonus Track)