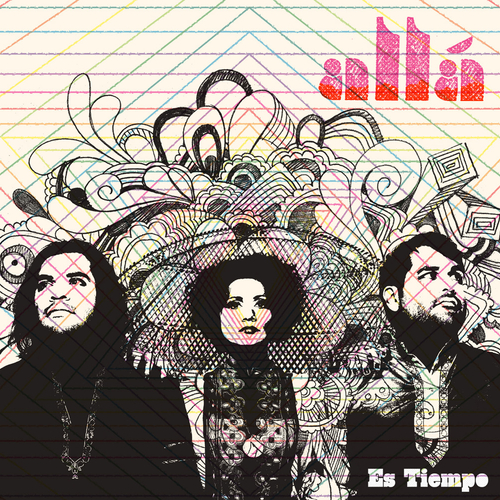 Es Tiempo
Available Formats
Tracks
Price
Buy
CD Album
12 tracks

£

7.99

Download Album (

MP3

)
12 tracks

£

7.99

Download Album (

FLAC

)
12 tracks

£

7.99
Description
Alla - Es Tiempo
Crash-landing onto the Crammed Discs roster from its own unique corner of the pop universe comes 'Es Tiempo', the lush, multi-layered debut album from Chicago-based Mexican-American three-piece Allá.

Comprising of producer/guitarist Jorge Ledezma, his brother Angel Ledezma on drums and vocalist/guitarist Lupe Martinez, with 'Es Tiempo' Allá –(pronouced ay-ya) – lay the blueprint for a new brand of Latin psychedelic pop. As vocal melodies chime, discreet electronic effects swirl around the mix and strings arc across the skyline at the subtlest of angles, 'Es Tiempo' invites the listener in with its hazy, euphoric hooks, before leading them through to a secret garden of sonic wonder.

The trio have forged a distinctive sound encompassing some of their favourite styles of music from the last four decades: German Krautrock experiments, Motown flourishes, Brazilian Tropicalia, cosmic jazz and the symphonic sixties pop of Brian Wilson and Phil Spector – all the while paying homage to their Mexican musical heritage, with Lupe exploring lyrical themes including inner city social pressures and spiritual & cultural awakening in pure, proud Hispanic tones.

'Es Tiempo' was created over a four-year period. Jorge Ledezma (who produced the album, as well as writing most of the songs) and engineer Colin Studybaker (Iron and Wine, National Trust) travelled around to record in various places, using different studios like so many musical instruments to create an unconventional sound. Recordings took place in and around Chicago (at Clava Studios, Engine Music, John McEntire's Soma Electronic Studios & others), as well as in the famed Tambourine Studios in Sweden, where Jorge laid down the string and horn arrangements alongside arranger Patrik Bartosch (Eggstone, The Cardigans).

In Spanish, "Allá" means "over there", and is the word used by Chicanos when talking about their parents' homeland… and by Mexicans when talking about… the USA ! The very ambiguity of the word perfectly represents how Jorge, Lupe and Angel feel: they truly are Allá people, neither totally here nor there…

In addition to its three core members (Jorge Ledezma on guitars, keyboards, vibes, loops, percussion and backing vocals; Angel Ledezma on drums, percussion and found sounds; Lupe Martinez on lead vocals and vocal arrangements, second guitar and Fender Rhodes), the band's live line-up includes James Warden on keyboards, Ria Neri on bass and Aadam Jacobs on percussion. They have already performed at a hugely diverse range of events around Chicago, including experimental music festival Four Million Tongues and the World Music Festival.

Born out of necessity and struggle, Allá now bring to you their pronunciamento for the movement, Es Tiempo. "Es tiempo para la revolucion" (It's time for a [pop] revolution).

Reviews
"The trio's globally savvy pop embraces not just their Mexican heritage, but immaculate Swedish pop, Brazilian Tropicalia, Krautrock, and Chicago's post-rock scene. Just as creative as it is sophisticated." (All Music Blog)
"Chicago is the city with the third-biggest Latino population in the U.S., but 'El Tiempo' imagines it as an even more cosmopolitan city of the future." (Pitchfork)
"Allá updates Brazilian tropicalia for the bilingual post-rock set. Allá makes swinging, sun-kissed, galactic, Latin-inflected pop music. Chicago's spicier answer to electronic-pop stylists Saint Etienne".
(Time Out Chicago)
"The Chicano Portishead… Shiny, summery… Breathy bossa novas like 'Sigue Tú Corazon' recall the retro-futurism of Stereolab, the cryptic hip hop of 'Tú Vida' hints at mid-'80s Scritti Politti, the quivering strings of 'Un Pedazo' invoke Portishead, while spookier instrumentals suggest Can or Faust. Throughout, Lupe Martinez's deadpan voice provides a constantly hypnotic feature" (Uncut)
Tracklisting
CD Album (CRAM 133CD)
Alla

- Una Dia Otra Noche

Alla

- Un Pedazo

Alla

- Tu Y Yo

Alla

- Sigue Tu Corazon

Alla

- Tu Vida

Alla

- No Duermas Mas

Alla

- Sazanami

Alla

- La Montana Sagrada

Alla

- Solo Un Milagro

Alla

- El Movimiento

Alla

- Es Tiempo

Alla

- Golpes Del Sol
Download Album (CRAM 133DD)