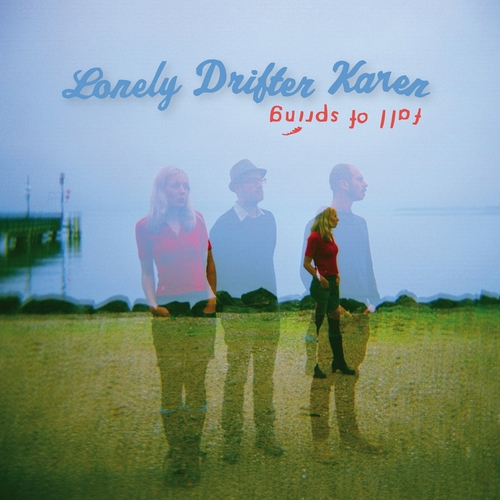 Fall Of Spring
Available Formats
Tracks
Price
Buy
CD Album
12 tracks

£

7.99

12" Vinyl Album
12 tracks

£

9.99

Download Album (

MP3

)
13 tracks

£

7.99

Download Album (

FLAC

)
13 tracks

£

7.99
Description
Lonely Drifter Karen - Fall Of Spring
After their unanimously adored 2008 debut album "Grass Is Singing", the enchanting Austro-Catalan-Italian trio return with a fantastic series of songs and a fuller, deeper sound. "Fall Of Spring" is a work of beautiful light and shade, of seasonal drifts and colourful contrasts, with the band's already broad musical palette enriched by brass/woodwind arrangements, tremolo-soaked electric guitars, pedal steel, inventive percussive textures and a thrilling new-found taste for rocking out!
Guests on the album include Emily Jane White (who duets on the track "Seeds"), Dana Janssen from Akron/Family (on "Seasonal Things", only available on the digital version of the album) and Carey Lamprecht (violin player for Jolie Holland). It was recorded in Mallorca, Brussels and various spots around France, and mixed by Christine Verschorren.
The story so far:
Lonely Drifter Karen was born from the union of three people with very different geographical and musical backgrounds (from folk and rock to cabaret, experimental, classical, indie pop & more). Started as a solo project by Viennese-born Tanja Frinta while she was living in Sweden, LDK became a band when Tanja moved to Barcelona and met Italian drummer Giorgio Menossi and Mallorcan keyboard player and arranger Marc Meliá Sobrevias. Since the release of their 2008 debut album, Lonely Drifter Karen have performed all around Europe. True to their drifter spirit, Tanja and Marc have now relocated to Brussels, while Giorgio still lives on the sunny shores of the Mediterranean.
More info and video
HERE
Reviews
Reviews on Lonely Drifter Karen's previous album "Grass Is Singing":
Tinged with melancholy, it's essentially jubilant, simple and lovely music, achieved without ever overdoing the saccharine levels (Q)
An album full of standouts … appropriating French chanson, Weillian cabaret, Eastern European folk, twisted jazz and Broadway musicals, dashing between them with promiscuous glee (Sunday Times)
An entirely unexpected example of a supposedly outdated format drawing its divergent sources into a creative plan of no little grandness…sublime' (PopMatters)
A delicious concoction …'Grass Is Singing' doesn't have a duff track on it (The Daily Telegraph)
A sound-world that's both antique and modern … plenty of fun to be had (Word)
An instrumental fantasia watched through a keyhole… With her sweet and clear voice, Tanja Frinta could be Tom Waits' imaginary daughter (Les Inrockuptibles)
Tracklisting
CD Album (CRAM 156)
Lonely Drifter Karen

- Dis-In-Motion

Lonely Drifter Karen

- Show Your Colours

Lonely Drifter Karen

- Russian Bells

Lonely Drifter Karen

- Railroad

Lonely Drifter Karen

- Ready To Fall

Lonely Drifter Karen

- Something's Scorching

Lonely Drifter Karen

- A Roof Somewhere

Lonely Drifter Karen

- Julien

Lonely Drifter Karen

- Eventually

Lonely Drifter Karen

- Side By Side

Lonely Drifter Karen

- Wonderous Ways

Lonely Drifter Karen

- Seeds
12" Vinyl Album (CRAM 156LP)
Lonely Drifter Karen

- Dis-In-Motion

Lonely Drifter Karen

- Show Your Colours

Lonely Drifter Karen

- Russian Bells

Lonely Drifter Karen

- Railroad

Lonely Drifter Karen

- Ready To Fall

Lonely Drifter Karen

- Something's Scorching

Lonely Drifter Karen

- A Roof Somewhere

Lonely Drifter Karen

- Julien

Lonely Drifter Karen

- Eventually

Lonely Drifter Karen

- Side By Side

Lonely Drifter Karen

- Wonderous Ways

Lonely Drifter Karen

- Seeds
Download Album (CRAM 156)