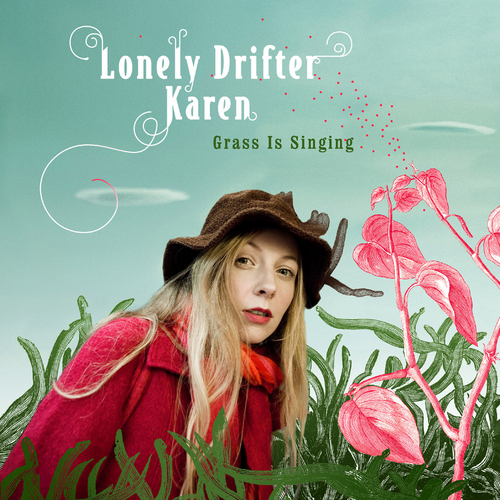 Grass Is Singing
Available Formats
Tracks
Price
Buy
CD Album
13 tracks

£

7.99

Download Album (

MP3

)
13 tracks

£

7.99

Download Album (

FLAC

)
13 tracks

£

7.99
Description
Lonely Drifter Karen - Grass Is Singing
A captivating voice, a fiery piano, a gentle acoustic guitar wandering into an expressionist cabaret, melodies, melodies and more melodies, words, emotion and magic: welcome to the unique world of Lonely Drifter Karen.
Lonely Drifter Karen revolves around Tanja Frinta. She was bewitched by the musicals she went to see when she was a child, in the theatres and cinemas of her native Vienna. She started writing after having listened to a lot of folk, German cabaret music and punk rock.
She played and sang in an all-girl indie pop band when she was 20, then packed her suitcase and left, lived in Sweden for a while and then in Barcelona, where she met the other two people who became part of the band: Mallorca-born pianist Marc Meliá Sobrevias (who is responsible for many of the album's arrangements) and Italian drummer Giorgio Menossi.
Tanja sings, plays the guitar, writes these wonderful melodies and these lyrics full of evocative imagery and incisive twists-and-turns, in which feet become yo-yos, a mad inventor falls in love with a circus clown, girls turn into elephants, angels sigh while ladies resist ice-cream, a woman and a man get choked and, yes, the grass sometimes does sing…
More info, videos etc
here
Reviews
Tinged with melancholy, it's essentially jubilant, simple and lovely music, achieved without ever overdoing the saccharine levels. (
Q
)
A delicious concoction taking in Weimar Republic cabaret, Parisian café music, Mittel-European classical traditions, rustic Italian ballads, gipsy folk and more, all topped by the whimsical, occasionally child-like songwriting of frontwoman Tanja Frinta. 'Grass Is Singing' doesn't have a duff track on it.(
The Daily Telegraph
)
An album fans of Bjork, Joanna Newsom and Jolie Holland will love without reservation… . The Feist-like The Owl Moans Low and the breakneck, Sondheimesque Climb are two stunners on an album full of standouts. (
Sunday Times
)
A tasty aural confection that's as light as the Alpine air and as deliciously rich as a Viennese Sachertorte, which brings to mind the likes of Dory Previn, The Tiger Lillies, and Felt Mountain-era Goldfrapp. (
Nude
)
Tracklisting
CD Album (CRAM 132CD)
Lonely Drifter Karen

- This World Is Crazy

Lonely Drifter Karen

- The Angels Sigh

Lonely Drifter Karen

- Passengers Of The Night

Lonely Drifter Karen

- The Owl Moans Low

Lonely Drifter Karen

- Climb

Lonely Drifter Karen

- Casablanca

Lonely Drifter Karen

- Professor Dragon

Lonely Drifter Karen

- Salvation

Lonely Drifter Karen

- Carousel Horses

Lonely Drifter Karen

- True Desire

Lonely Drifter Karen

- Giselle

Lonely Drifter Karen

- No True Woman

Lonely Drifter Karen

- La Hierba Canta
Download Album (CRAM 132DD)