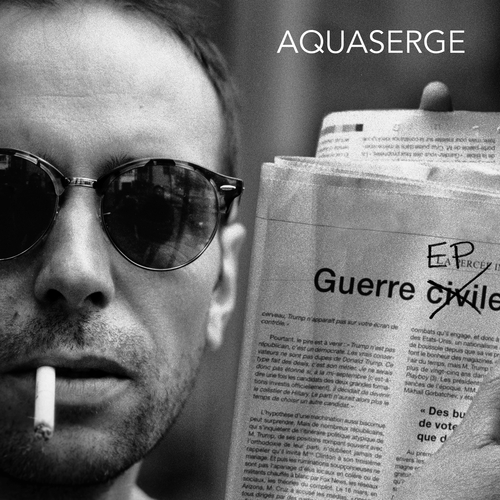 Guerre EP
Available Formats
Tracks
Price
Buy
12" Vinyl EP
4 tracks

£

9.99

Download EP (

MP3

)
4 tracks

£

3.16

Download EP (

FLAC

)
4 tracks

£

3.16

Download individual tracks
From £0.79
Description
Aquaserge - Guerre EP
Experimental pop band Aquaserge has been a subterranean driving force in the international music scene for the last few years, inspiring and influencing countless musicians. Originally formed by three friends (Julien Barbagallo, Julien Gasc & Benjamin Glibert) in the south-western French city of Toulouse, Aquaserge soon became a shifting collective involving many collaborators (including mainstays Audrey Ginestet and Manon Glibert), while the band's three founders went on to also become (respectively) part of Tame Impala, Stereolab and Melody's Echo Chamber. Aquaserge also have a long-time association with Japanese band Acid Mothers Temple. 

Aquaserge's resolutely polymorphous music draws from sources as diverse as original psych pop, free jazz, noise, vintage French film music, the most adventurous side of '60s/'70s rock (say, from kraut to Canterbury to cult Gallic bands such as ZNR). All absorbed and transmuted to create their own unique, cinematic & contemporary sound, imbued with a particular poetic and humourous approach which informs both their lyrics and music. Their tracks include instrumental excursions, intriguing harmonies, and pristine pop songs, always ready to joyfully burst at the seams.

The word "Aquaserge" has been whispered like a secret password between artists and music fans, they're epitomes of musicians' musicians (at a recent show in Brussels, the audience contained members of practically all the exciting young local bands… and the same would certainly be true in London, Berlin or L.A.). Aquaserge have cultivated and enjoyed their low-key, behind-the-scenes profile, but are now ready to present their attractive music to a wider audience.

Guerre EP contains 4 songs: a make-believe cumbia, a rock track with strong political subtext, an astonishing cover version of an astonishing piece (Chassol's Les Oiseaux, in which he harmonized field recordings of bird songs) and a summery love song.