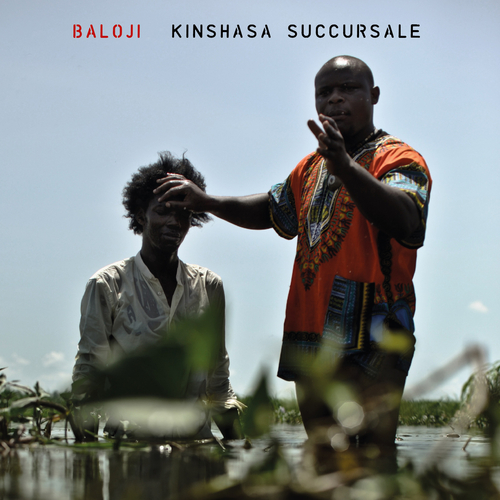 Kinshasa Succursale
Available Formats
Tracks
Price
Buy
CD Album
15 tracks

£

9.99

Download Album (

MP3

)
15 tracks

£

7.99

Download Album (

FLAC

)
15 tracks

£

7.99

Download individual tracks
From £0.79
Description
Baloji - Kinshasa Succursale
NOW AVAILABLE FOR PRE-ORDER!

'Kinshasa Succursale' is the second full length recording by BALOJI, and his first with Crammed. It is more than a follow up album, it is a completely new departure for the artist. Originally born in Lubumbashi in the south-eastern portion of the Congo, BALOJI immigrated to Belgium with his father at the age of four. His eternal quest for self-identity came to light when he spoke with his mother for the first time in 24 years. He knew he had to go back. This recording is the fruit of his return voyage to his motherland.

BALOJI scoured the streets of Kinshasa for the finest musicians and many of them appear here: Konono No 1, Zaïko Langa-Langa, Royce Mbumba, La chorale de la Grâce, Bebson de la Rue, and Moïse Illunga among others. This 13 track album features two bonus remixes: one by underground electronic legend dÉbruit, and the other by G77 with Blitz the Ambassador, Joya Mooi & Freddy Massamba, all players in the international African scene.
Tracklisting
CD Album (CRAM 183.1)
Baloji with Royce Mbumba

- Le Jour D'Après / Siku Ya Baabaye (Indépendance Cha-Cha)

Baloji with Monik Tenday

- Tshena Ndekela

Baloji with Konono N°1

- Karibu Ya Bintou

Baloji with La Chorale De La Grâce

- Congo Eza Ya Biso (Le Secours Populaire)

Baloji

- De L'Autre Côté De La Mère

Baloji with Larousse Marciano

- À L'Heure D'Été / Saison Sèche

Baloji

- La Petite Espèce (Bumbafu Version)

Baloji with Zaïko Langa-Langa & Amp Fiddler

- Nazongi Ndako (Part 1)

Baloji with Royce Mbumba

- Nazongi Ndako (Part 2)

Baloji with Bebson De La Rue

- Kyniwa-Kyniwa

Baloji

- Genèse 89

Baloji

- Tout Ceci Ne Vous Rendra Pas Le Congo (Part 1)

Baloji with Moïse Ilunga

- Kesho

Baloji

- Karibu Ya Bintou (déBruit Remix)

Baloji with Blitz The Ambassador & Joya Mooi & Freddy Massamba

- Indépendance Cha-Cha (G77 Remix)
Download Album (CRAM 183.1)