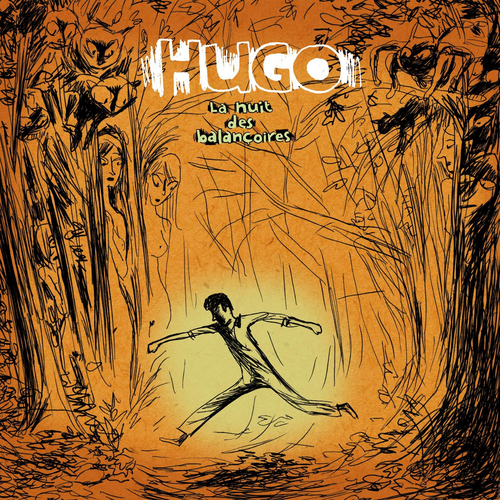 La Nuit des Balancoires
Available Formats
Tracks
Price
Buy
CD Album
11 tracks

£

7.99

Download Album (

MP3

)
11 tracks

£

7.99

Download Album (

FLAC

)
11 tracks

£

7.99
Description
Hugo - La Nuit des Balancoires
France is a strange place: black humour, nonsense & weirdness are basic ingredients in the films of Tim Burton, David Lynch or Tarantino, who are all the darlings of the French public. So are Paul Auster's metaphysical thrillers and Raymond Carver's dark novels, to name but a few. Yet there are almost no equivalents of these atmospheres in the tepid world of French pop music... "almost", because Hugo is a brilliant exception to the rule.

The title of his album translates as "The Night Of The Seesaws". It is inhabited by the naive and the bizarre, the childlike and the macabre... these antagonistic elements coexist side by side, like animals in some old fable (or like piano keys in some old tune). Each song is like a miniature short story. This young man nourishes a deep affection for mystery: he must have read too many books by Conan Doyle when he was a teenager...(or was it Steven Millhauser, Borges and Patrick Mc Grath?).

Hugo sings his sentimental and cruel tales with an angelic voice, in a happy or detached tone. He knows how to write real songs, with all the necessary elements: captivating verses, big choruses, enchanted yet spiky melodies, lovely vocal harmonies which betray his love for some great moments in the history of pop & folk ( here, refrain from naming the obvious Beach Boys, Neil Young, Kinks... or the less-than-obvious Sufjan Stevens, Handsome Family, Pernice Brothers...) .

Let's not forget to mention the inventive arrangements, ranging from limpid to quirky, which often play a part in the narrative (to the great delight of those who don't understand French or can't be bothered to use a dictionary).

"La Nuit des Balançoires" ((The Night Of The Seesaws) was mixed by Yann Arnaud (Air's recording engineer, who also works with Syd Matters, Cocosuma etc).

Cover and booklet artwork include exclusive drawings by French star cartoonists Dupuy & Berberian.

By combining his perfect songsmith craft with his true talent as a story-teller, his sweet melodies with his barbed lyrics, Hugo offers us a very peculiar and delectable brew.


Tracklisting
CD Album (CRAM122)
Hugo

- Pas de Chance pour les Wilson

Hugo

- Le Gout de Toi

Hugo

- Je Livre des Moustiques

Hugo

- On A Tout Brule

Hugo

- Je Vais au Bresil

Hugo

- La Collection

Hugo feat. Austine

- Fouille-toi

Hugo

- Car C'est Une Fille

Hugo

- Je Suis Fou

Hugo

- La Cellulose

Hugo

- Rita
Download Album (CRAM122)