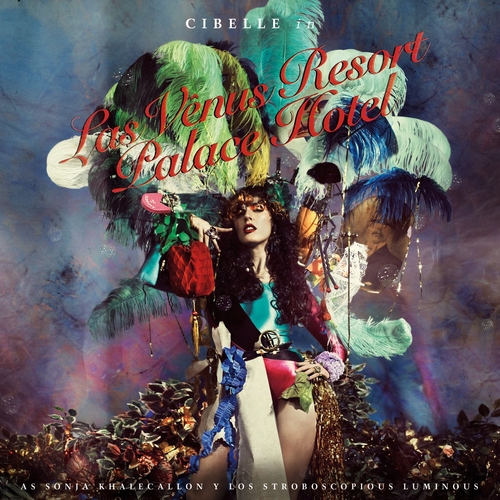 Las Venus Resort Palace Hotel
Available Formats
Tracks
Price
Buy
CD Album
14 tracks

£

9.99

12" Vinyl Double Album
14 tracks

£

12.79

Out of stock

Download Album (

MP3

)
14 tracks

£

7.99

Download Album (

FLAC

)
14 tracks

£

7.99
Description
Cibelle - Las Venus Resort Palace Hotel
GET A FREE DOWNLOAD OF THIS RELEASE WHEN YOU BUY IT ON VINYL
Just add both the vinyl and the download of your choice (mp3 or flac) to your basket and we'll do the rest.
Please note: the vinyl LP will be ready around May 5
The world has ended. All that's left is a jungle on a floating rock where a paradise nightclub band is playing at the last cabaret on earth: the Las Vênus Resort Palace Hotel.That's where you'll find Sonja Khalecallon and her band Los Stroboscopious Luminous.
Sonja invites you to plunge into her world of warped exotica (inspired by the kitsch and pseudo-exotic style of music that was all the rage in the USA at the start of the 1960s), for a post-nuclear tropical rundown punk cabaret soundtrack of an album comprising nine original songs and three inventive covers: "Mango Tree" (as sung by Ursula Andress in the James Bond film "Dr No"), "Lightworks" (from the eccentric Raymond Scott, a seminal exotica producer and pioneer of electronic music in the 1950s) and "It's Not Easy Being Green" (originally by none other than Kermit The Frog from The Muppets!).
Sonja Khalecallon is in fact one of the alter egos of Cibelle, the London-based tropical punkster whose take on music is entirely her own. With each album it's a whole new story, a new universe. After her self-titled debut and successful follow-up "The Shine Of Dried Electric Leaves" (both also on Crammed Discs), "Las Vênus Resort Palace Hotel" once again takes the Brazilian-born singer, producer and multi-instrumentalist into fresh and exciting sonic realms.
Cibelle recorded "Las Vênus Resort Palace Hotel" in her London basement, a Vancouver woodland retreat invaded by bears, a homestudio in Berlin and back in her hometown of São Paolo.
It features contributions from friends including Josh Weller, Mocky, Kristian Craig Robinson (Capitol K), Sam Genders (Tunng), Damian Taylor, Fernando Catatau, Pupilo (Nação Zumbi) and others.
Cibelle produced the album together with Björk's musical director Damian Taylor in Vancouver, and mixed it in Los Angeles with Thom Monahan (Au Revoir Simone, Devendra Banhart).
More info + video
HERE
Reviews
PRESS QUOTES ON CIBELLE'S PREVIOUS ALBUM
"Cibelle has crafted a sophisticated trilingual pop record, spinning twitchy electronics, American freak-folk, and Brazilian traditions into a glittering tableau All the more radiant for their partial construction, Cibelle's songs are marked by a billowing drift, with pliant, meandering melodies and progressions that seem less linear than mutational, evolving toward realization by gradual degrees"
Pitchfork (USA)
"The sound of the summer…however this isn't your average summer… Opening with a Tom Waits cover is risky, but transforming his growl into Joanna Newsom meeting Edith Piaf proves that Cibelle's not only unafraid to mess with preconceptions, she's also a budding star"
NME (UK)
"A seductively inventive record"
Uncut (UK)
"The ideal soundtrack for indie picnics this summer. It's wonderfully refreshing to find intelligence and unconventionality worn so lightly and sunnily. This is iced mint tea for the ears"
Daily Telegraph (UK)
"Collaborations [with CocoRosie sideman Spleen and with Devendra Banhart] suggest an alignment with the voguish freak-folk scene, but Cibelle steers thankfully clear of the childish contrivances of those acts while retaining the endearingly patchwork quality of their music. There are many moments of spellbinding intimacy to be found here"
The Guardian (UK)
"She's a canny pop amalgamator, experimenting with soundscapes but never forgetting about tunes… Even when her music is most borderless and surreal, she never sounds disoriented"
The New York Times (USA)
"Haunted, cut-up, serenely twinkling electro-acoustic folk-pop… This is my ideal sound and you need to hear it now because then it will be your ideal sound too"
Pop Matters (USA)
Tracklisting
CD Album (CRAM 142)
Cibelle

- Welcome

Cibelle

- Underneath the Mango Tree

Cibelle

- Man From Mars

Cibelle

- Melting the Ice

Cibelle

- Lightworks

Cibelle

- Sad Piano

Cibelle

- Frankenstein

Cibelle

- Escute Bem

Cibelle

- Mr and Mrs Grey

Cibelle

- The Gun and the Knife

Cibelle

- Sapato Azul

Cibelle

- Braid My Hair

Cibelle

- It's Not Easy Being Green

Cibelle

- Bye Bye
12" Vinyl Double Album (CRAM 142LP)
Cibelle

- Welcome

Cibelle

- Underneath the Mango Tree

Cibelle

- Man From Mars

Cibelle

- Melting the Ice

Cibelle

- Lightworks

Cibelle

- Sad Piano

Cibelle

- Frankenstein
Cibelle

- Escute Bem
Cibelle
- Mr and Mrs Grey
Cibelle
- The Gun and the Knife
Cibelle
- Sapato Azul
Cibelle
- Braid My Hair
Cibelle
- It's Not Easy Being Green
Cibelle
- Bye Bye
Download Album (CRAM 142)