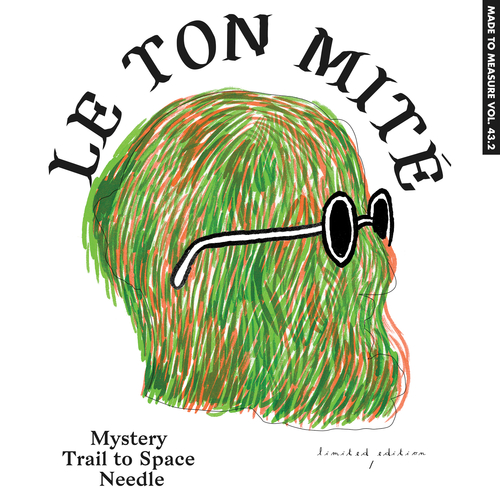 Mystery Trail to Space Needle
Available Formats
Tracks
Price
Buy
7" Vinyl EP
5 tracks

£

7.99
Description
Le Ton Mité - Mystery Trail to Space Needle
------------------------------------------------------------------
The cover is actually in black & white so Le Ton Mité is holding a colouring contest :
We heard that one way to meditate or have piece of mind is to take some pens or crayons and fill in shapes.

You may notice the cover is in black & white, so we re holding a coloring contest!
Between now and March 7th 2017

Color in your copy of » Mystery Trail to Space Needle « and send a photo to letonmite@gmail.com

Covers will be displayed on the Facebook page

Prizes include :
One grand prize
» Passé Composé Futur Conditionnel « 2xLP and a piece of pottery made by McCloud
5 winners will receive
» Passé Composé Futur Conditionnel « 2xLP which will be released next February.
10 winners will receive VVVVP pins
Good Coloring and see you soon !
------------------------------------------------------------------
Silence is not a word we expect to hear in the world of music. Of course, there was John Cage, but normally what we expect to hear from musicians is music. For the past couple of years we have heard silence from a group difficult to describe but easy to enjoy: LE TON MITÉ. Since the fall of 2014, the group's leader, McCloud Zicmuse, has been travelling, touring, writing, playing, transforming a solo project into a group & recording a collection of songs to be released next February called "Passé Composé Futur Conditionnel". Before that day arrives, the decision has been made to make public, defying the silence & at full volume, a few songs from this collection.
This Fall, Crammed Discs pleased to present the first 7" EP in the history of the mythic Made to Measure composer's series: "Mystery Trail to Space Needle". A microcosm of adventure: five soundtracks of a voyage to the past, in the present. For those who are familiar with the quirky sounds and mini compositions of LE TON MITÉ, you may be shocked by sounds that are resolutely pop, but within, creeping to the forefront, you will hear an evolution of what you know and love. For those who know nothing about LE TON MITÉ, get ready for a quick ride, jet streaming over the United States.
First step: Space Needle
A jazzy neo-grunge opens the disc with a sunny anthem to the mythic birthplace of Jimi Hendrix & Microsoft.
Second Step: Un Chien
What you hear is a split second broken baroque homage to a fluffy friend.
Third is the word: Petit Jean
A minor scale poem to a butte, a mini voyage to a soft and family land.
A Fourth: Mystery Trail
The second side starts with stereo separation, unknown sounds reveal guitar lines & background beats that lead you on a hike through an land of enchantment, produced by Deerhoof's John Dieterich.
The Fifth & Final: Petit Bis
A return trip to the above butte, filled with all the futility & love that ends in rainbows.
The artwork is a collaboration of illustrator Anne Brugni & the graphic powerhouse of Brussels-based La Villa Hermosa. The participatory covers reflect the artists' interpretation of the moments experienced in the "American Landscape" & the reflections documented by image and line. Edited in a limited edition, each cover is individually customised, a piece of work in its own right.
Tracklisting
7" Vinyl EP (MTM43.2)
Le Ton Mité

- Space Needle

Le Ton Mité

- A Dog

Le Ton Mité

- Petit Jean
Le Ton Mité

- Mystery Trail
Le Ton Mité
- Petit Bis