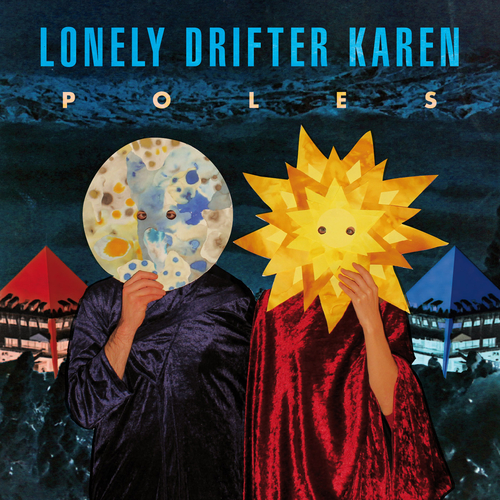 Poles
Available Formats
Tracks
Price
Buy
CD Album
13 tracks

£

7.99

Download Album (

MP3

)
13 tracks

£

7.99

Download Album (

FLAC

)
13 tracks

£

7.99

Download individual tracks
From £0.79
Description
Lonely Drifter Karen - Poles
Lonely Drifter Karen are back, stronger than ever before, with a new song cycle which shatters many preconceived notions of their music. The colours have morphed: gone is the largely acoustic, piano-led instrumentation. This time, analog electronics, Asiatic arpeggios, sliding bass-synths, sinuous guitar riffs and funky grooves abound, while Tanja Frinta's voice is wilder, more vibrant, and seems to have acquired unsuspected new dimensions.

With these new shades and brushes, the band have painted an alternate version of their own, unmistakable world: dreamy, poetic, and slightly surreal, overflowing with those lush arrangements and irresistibly seductive melodies which have become the band's trademark.
Reviews
"A pop album of the very highest calibre.
'Poles' is seamless, every seemingly effortless song a perfect, melodic, atmospheric gem. Tanja Frinta's beautiful, Karen Carpenter-esque voice is the focus.
This is a landmark album. The year is still young, but 'Poles' is one 2012's best."
The Arts Desk (UK)
"Notes of wistful, 60s Gallic pop, funky, Luscious Jackson-style grooves, loungey, retro-futurist electronica and, on 'Comet', Nu Shooz-like '80s synth pop. All up, it's irresistible."
Time Out (UK)
"We are sincerely in love with the cosmic reveries of this Brussels-based trio, who mix Les Baxter/Esquivel-style space-age pop with the woozy grind of real guitars. Singer Tanja Frinta is quite something to hear — an intergalactic Charlotte Gainsbourg"
The Word (UK)
"The incredibly versatile singing voice of Tanja Frinta (…) can sound serene like Feist or Lyke Li, dark and melancholic like Nancy Sinatra or Lana del Rey or even slightly mad like tUnE-yArDs or Róisín Murphy. What makes (this) all the more admirable and pleasing is that Frinta never actually sounds like any of the aforementioned female singers. Lonely Drifter Karen manage to mould their many-sidedness into instantly accessible song shapes. The level of songwriting is persistently high, echoing the unbounded craftsmanship of Moloko, Beach House and Wir Sind Helden. Poles is one of the most interesting releases of the first quarter of 2012."
Indie Fuzz (NL)
Tracklisting
CD Album (CRAM 190)
Lonely Drifter Karen

- Three Colors Red

Lonely Drifter Karen

- Eyes of a Wolf

Lonely Drifter Karen

- Soul Traveler

Lonely Drifter Karen

- Dizzy Days

Lonely Drifter Karen

- Comet

Lonely Drifter Karen

- Henry Distance

Lonely Drifter Karen

- Rain in Beijing

Lonely Drifter Karen

- Velvet Rope

Lonely Drifter Karen

- Traffic Lights

Lonely Drifter Karen

- Appetite

Lonely Drifter Karen

- Brand New World

Lonely Drifter Karen

- Hunters To Heaven's Wild

Lonely Drifter Karen

- Exactly Light
Download Album (CRAM 190.1)