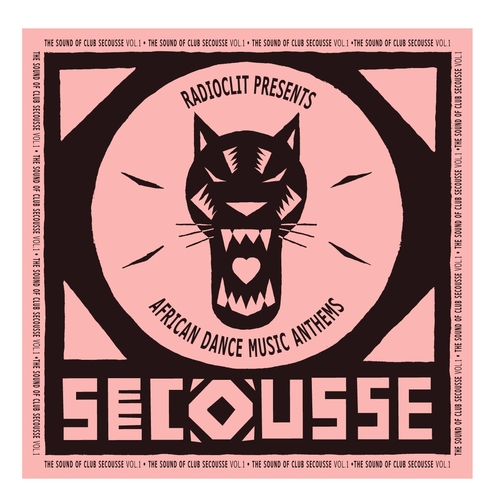 Radioclit presents: The Sound Of Club Secousse Vol.1
Available Formats
Tracks
Price
Buy
CD Album
17 tracks

£

9.99

Download Album (

MP3

)
17 tracks

£

7.99

Download Album (

FLAC

)
17 tracks

£

7.99
Description
Various Artists - Radioclit presents: The Sound Of Club Secousse Vol.1
Radioclit are definitely on the rise, both as remixers/DJs (with their popular Secousse club nights in London & Paris) and as two-thirds of acclaimed Afro-electronic band The Very Best. For this compilation, they hand-picked their favourite tracks among the wealth of hot electronic dance music which is being produced all across the African continent, from Angola to South Africa to the Ivory Coast, Sierra Leone and more. The album includes tried-and-tested dancefloor gems which exemplify the most vibrant local scenes: Coupe Decale, Funana, Kuduro, Bubu music, Shaangan disco etc.

"The Sound Of Club Secousse" track-by-track
(descriptions by Etienne/Radioclit)

1. Bab Lee 'Sous les cocotiers' (Ivory Coast)
One of the biggest instrumental anthems of the whole Coupé Décalé movement, this track has been rinsed in bars clubs and house parties all over West Africa for the last few years.

2. Batida feat. Bras Firmino 'Nufeko Disole' (Portugal/ Angola)
A great new band based in Lisbon and blending influences from all Portuguese-speaking African countries like Angola and Cape Verde.

3. The Very Best feat. Mo Laudi 'Angonde' (Remix) (Malawi / South Africa / Sweden)
Since this compilation is all about what we play at Secousse, it felt logical to feature one of Radioclit's own productions, featuring Malawi's biggest export since the beginning of times, Esau Mwamwaya, and his South African hypeman Mo Laudi.

4. Janka Nabay 'To Ma Ya' (Sierra Leone)
The original creator of bubu music in the nineties. A living legend in Sierra Leone now exiled in NYC who is enjoying a big career revival after struggling for a decade working in a chicken shop in the Philadelphia suburbs. This song was recorded in the middle of a civil war. Ghetto music at its best.

5. Lutchiana 'Eki Bis' (Congo)
Congolese soukous music of the purest kind, from the nineties. Who is this guy? Where is he now? Who knows.

6. Luky Gomes 'Zézé e Toto' (Remix) (Angola)
A good example of a solid kuduro track from a few years ago, when the sound was a bit more musical and less crazy hardcore than these days.

7. Magic System 'Petit Pompier' (Ivory Coast)
Straight from Ivory Coast, the giants of Coupe Decale, famous all over the world for their first hit 'Premier Gaou' and tons of others after. They can fill up stadiums and are always number one in the charts in France. This little-known track is from a few years ago and was never properly released as a single, but when played in a club it always devastates the dancefloor.

8. DJ Serpent Noir 'La Go Attoto' (Ivory Coast)
Anaconda DJ Serpent Noir : he looks like a snake, on the mic he spits like a snake, and on the decks he's a king... a massively underrated ghetto talent.

9. Puto Prata 'Zuata Zuata' (Angola)
Classic tune from one of the biggest names of the infamous kuduro scene from Luanda, Angola.

10. Jusa Dementor 'African Air Horn Dance' (Zimbabwe)
A new talent out of Zimbabwe who is making waves in England these days. Taking that big UK funky sound and spicing it up with afro-tribal vibes.

11. DJ Vielo, DJ Anielson And Patcho Debenq 'Decale Mon Afrique' (Cabo Verde / France)
Inspired by Angolan kuduro, a track created by three of the most in-demand DJs in the French Afro-club scene

12. Naty Kid 'Sereia' (Cabo Verde)
This is a great example of funana, an insane traditional party music out of Capo Verde that heavily features accordions on top of uptempo beats. It sounds like small village riot music for older generationsS definitely one of the most bonkers song we've ever heard.

13. Ize 'Tronku Di Mundo' (Cabo Verde / France)
A new talent from the French / Cape Verde scene, with a track that draws from Angolan kuduro and Cape Verde's funana.

14. Tshetsha Boys feat. Vuyelwa 'Mosemana Wa Dikgomo' (South Africa)
More traditional tsonga disco or shangaan disco is represented on the compilation by the great Thomas Chauke, who pretty much invented and ruled the genre for decades. This is the sound of the new school, now refered to as shangaan electro. Look at the recent compilation on Honest Jons.

15. Kaysha feat. Anofela & Top One Frisson 'On est ensemble' (Congo)
Kaysha has a big following in the zouk scene, and is especially popular with the ladies for his syrupy love tracks. Once in a while, however, he gets busy with creating monstrous afro-rave anthems like this one.

16. Thomas Chauke 'Xipereta' (South Africa)
A Grammy Award winner and true giant of South African music, Thomas Chauke has made records involving all his family members since the eighties, and has released around 30 records, most of which have gone platinum. A true pioneer of that shangaan disco sound, sometimes also know as 'tsonga'.

17. Skeat 'Dumelang' (Botswana)
An up-and-coming artist from South Africa who just released his first album on Akwaaba Music. This was the underground hit that got him signed.

Tracklisting
CD Album (CRAM 171)
Bab Lee

- Sous Les Cocotiers

Batida feat. Bras Firmino

- Nufeko Disole

The Very Best feat. Mo Laudi

- Angonde

Janka Nabay

- To Ma Ya

Lutchiana

- Eki Bis

Luky Gomes

- Zeze e Toto

Magic System

- Petit Pompier

DJ Serpent Noir

- La Go Attoto

Puto Prata

- Zuata Zuata

Jusa Dementor

- African Air Horn Dance

DJ Vielo, DJ Anielson and Patcho Debenq

- Decale mon Afrique

Naty Kid

- Sereia

Izé

- Tronku di mundo

Tshetsha Boys feat. Vuyelwa

- Mosemana Wa Dikgomo

Kaysha feat. Anofela & Top One Frisson

- On est ensemble

Thomas Chauke

- Xipereta

Skeat

- Dumelang
Download Album (CRAM 171)