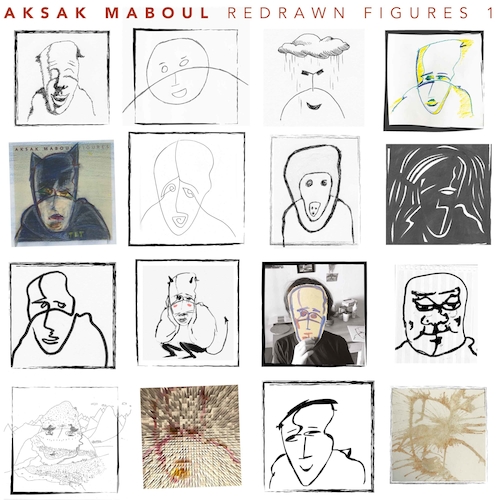 Redrawn Figures 1
Available Formats
Tracks
Price
Buy
12" Vinyl Album
10 tracks

£

20.00

Download Album (

MP3

)
10 tracks

£

7.90

Download Album (

FLAC

)
10 tracks

£

7.90

Download individual tracks
From £0.79
Description
Aksak Maboul - Redrawn Figures 1
Fifteen artists revisit the tracks AND the cover art of Aksak Maboul's latest album 'Figures'!

Ranging from simple remixes to reconstructions and cover versions, these 18 tracks are released on two separate, limited-edition vinyl LPs, as well as on two digital albums.

In order to extend the fun (and the metaphor in the title), Aksak Maboul have asked the contributors to also revisit Véronique Vincent's painting which adorned the front cover of the album *.

The participants include experimental pop luminaries The Notwist (DE), Cate Le Bon (GB), Kate NV (RU) and Vanishing Twin (GB), respected electronic music artists Felix Kubin (DE), Tolouse Low Trax (DE), Hello Skinny aka Tom Skinner, GB), Matias Aguayo (CL/DE) and Stubbleman aka Pascal Gabriel (GB/BE), revered experimentalist Carl Stone (US), up-an-coming beat makers Shungu (BE) and ohh_luuu (US), Nihiloxica's Spooky-J (GB) and Chicago house veteran Jordan Fields (US). The collection is rounded off by four reworks made by Aksak Maboul's Marc Hollander.

* The artwork for 'Redrawn Figures 1' features 16 "redrawings" of the original cover, done by most of the artists mentioned above, each in his own personal graphic style.

As for cover of 'Redrawn Figures 2', it features a visual remix of Véronique's painting by renowned French painter Hervé Di Rosa (co-founder of the Figuration Libre movement, which, drawing inspiration from comics, graffiti and outsider art, blew a breath of fresh air into museums, in France and worldwide).
Tracklisting
12" Vinyl Album (CRAM 307LP)
Vanishing Twin

- Silhouettes (Vanishing Twin Remix)

Shungu

- C'est Charles (Shungu Remix)

The Notwist

- Tout a une fin (The Notwist Version)

Aksak Maboul

- Eyelids and Phosphenes (Aksak Maboul Reconstruction)

Cate Le Bon

- Sophie La Bevue (Cate Le Bon Interpretation)
Carl Stone

- Hotel Suites (Carl Stone Redesign)
Spooky-J
- Un Caïd (Spooky-J Remix)
Aksak Maboul
- Uccellini: The Menace (Aksak Maboul Full Version)
Kate NV
- Retour Chez A. (Kate NV Remix)
Aksak Maboul
- Charles Undresses (and Goes to Bed) (Aksak Maboul Edit)
Download Album (CRAM 307)