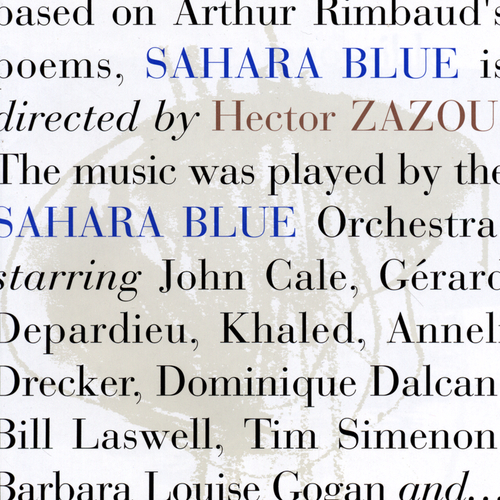 Sahara Blue
Available Formats
Tracks
Price
Buy
CD Album
12 tracks

£

9.99

Download Album (

MP3

)
12 tracks

£

7.99

Download Album (

FLAC

)
12 tracks

£

7.99
Description
Hector Zazou - Sahara Blue
A magnificent tribute to poet Arthur Rimbaud, conceived and directed by Hector Zazou, and featuring John Cale, Ryuichi Sakamoto, Gérard Depardieu, David Sylvian, Bill Laswell, Khaled, Tim Simenon, Richard Bohringer, Brendan Perry & Lisa Gerrard (Dead Can Dance), Barbara Gogan, Vincent Kenis, Dominique Dalcan, Anneli Drecker (Bel Canto), Lone Kent, Samy Birnbach & Malka Spigel (Minimal Compact), Sussan Deyhim, Steve Shehan, and other vocalists and musicians from Morocco, Ethiopia, Spain, Japan, France, England, and the USA. The poems are sung and spoken in English, French, Japanese, Spanish, Arabic, Hebrew.

This is the album which brought wider international recognition to Hector Zazou.

Originally released in 1992.


Reviews
"David Sylvian's collaboration with Hector Zazou and John Cale is incredible
(Mojo)
"An exuberant piece of work" (Q)
"At times eerie and at others dynamic, this is deeply charged music" (Straight No Chaser)
"A rare metaphysical, contemplative, carnal treat" (Ian Penman, The Wire)
"Sahara Blue is that rarity, a successful concept album" (Tony Parsons, Daily Telegraph)
"A sense of danger always prevails… fascinating stuff" (Melody Maker)
Tracklisting
CD Album (MTM 32)
Hector Zazou feat. Gerard Depardieu & Anneli Drecker

- I'll Strangle You

Hector Zazou feat. John Cale

- First Evening

Hector Zazou feat. Dominique Dalcan & Ryuichi Sakamoto

- Ophelie

Hector Zazou feat. Barbara Gogan

- Lines

Hector Zazou feat. Lisa Gerrard & Brendan Perry

- Youth

Hector Zazou feat. Sussan Deyhim, Samy Birnbach & Ryuichi Sakamoto

- Hapolot Kenym

Hector Zazou feat. John Cale & Vincent Kenis

- Hunger

Hector Zazou feat. Barbara Gogan

- Sahara Blue (Brussels)

Hector Zazou feat. Khaled & Malka Spigel

- Amdyaz

Hector Zazou feat. Lisa Gerrard & Brendan Perry

- Black Stream

Hector Zazou feat. Ketema Mekonn & Ryuichi Sakamoto

- Harar Et Les Gallas

Hector Zazou feat. Richard Bohringer, Sussan Deyhim & Bill Laswell

- Lettre Au Directeur Des Messageries Maritimes
Download Album (MTM 32)