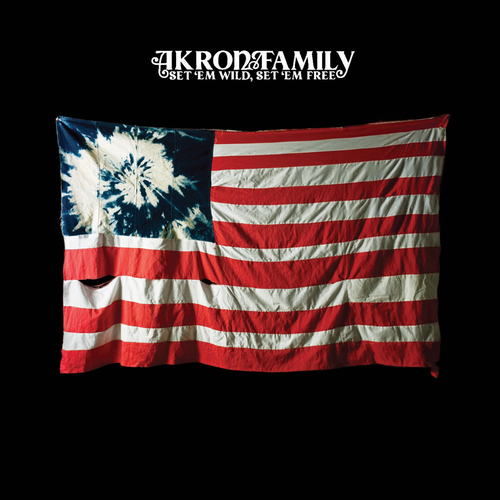 Set 'Em Wild, Set 'Em Free
Available Formats
Tracks
Price
Buy
CD Album
11 tracks

£

7.99

12" Vinyl Double Album
11 tracks

£

10.39

Download Album (

MP3

)
11 tracks

£

7.99

Download Album (

FLAC

)
11 tracks

£

7.99
Description
Akron/Family - Set 'Em Wild, Set 'Em Free
Crammed Discs is proud to bring you news of our exciting marriage into the Akron/Family – a band creating an inimitable, kaleidoscopic brand of global psychedelic folk rock music.

After building up a great, word-of-mouth reputation during the last four years, and gathering an ever-growing legion of obsessive fans, Akron/Family are on the verge of a major breakthrough with Set 'Em Wild, Set 'Em Free, their new album which will be released in Europe by Crammed on May 4th, 2009.

Set 'Em Wild... is set to be one of the year's landmark releases and, as its cover suggests, sees the band effect their own entirely unique and inclusive vision of a United States of Music. From the impossibly slinky ethno-funk groove that kicks off first track Everyone Is Guilty onwards, it's clear that this band adopts a wonderfully lateral approach to guitar-based rock music (why else, after all, would they be releasing on Crammed?). Aside from the band's signature close harmony vocal hooks (often found swelling into quasi-tribal ensemble chant ecstasy), the Akron/Family musical vocabulary packs in Fela-like rhythmic momentum, heady Funkadelic guitar chops, intricate Ali Farka Toure chord tapestries, skittering, almost Timbaland-esque electronic percussion, frenzied gusts of Albert Ayler brass... there are, in fact, very few musical styles not to find a place at this Family's table, and they all come laced with warm, infectious folk-pop melodies.

Indeed, "family" is the word that binds everything about this elemental, forward-pushing music into one huge, magical and digestible whole: for all its thrilling tangents, the message that underscores Set 'Em Wild... – and the gospel roared from the rooftop of every venue lucky enough to play host to the riotous, chaos-embracing dance party that is the Akron/Family live experience - is one of life-affirming warmth and welcoming: a simple, unpretentious joy in the sense of communion music can bring us, wherever and whoever it's from. After all: if, as that killer opening track claims, "Everyone Is Guilty"... then we're all in it together, right?

Reviews
Is this what Animal Collective would sound like if Avey and Panda turned down the synth faders and slapped on a fresh coat of Americana?... this psychedelic track is Freaking/Awesome
Pitchfork review of Everyone Is Guilty
Where antique folk balladry, primal drone and exposive improvisation meet and melt... true family music.
David Fricke, Rolling Stone
(They) have proved themselves capable of more extraordinary, kaleidoscopic musical feats than most - morphing from quiet country-gospel into heavy psych-rock workouts, dipping into strange marching-band anthems and reverberating free-jazz jams along the way... a genuine one-off
Guardian, UK
Animal Collective, Akron/Family... illuminated and digitized folklore… (...) The band is as impressive live as on record, with its ablilty to juggle with '70s influences and contemporary free folk experimentation (...) A sonic power developed while touring around the world...
Les Inrockuptibles, France
The most beautiful thing about the Akron/Family... is that they are virtually unclassifiable... once given the opportunity, this band, no matter how seemingly chaotic their sounds are from the outside, will seduce as well as astonish.
All Music Guide, US
What Radiohead might sound like if influenced by traditional American antecedents... (they) combine a formidable assortment of modern and pre-modern styles into a cogent, singular whole. Fluent in the vocabularies of rock, folk, soul and jazz...
Dusted, US
Strictly speaking, theirs is a kind of modern folk music, in that real, acoustic instruments mingle with four part harmonies. But the Akrons' musical connection and skill allows for wild, instinctual experimentalism (Zep-style wig outs and shamanic incantations)... Bringing together such disparate influences as '70s classic rock, African funk and '80s hip hop… Heady, bodily, beautiful stuff"
Mojo, UK
Sounds like a duel between Sons And Daughters and and amped-up Tinariwen. Earthy, mystic and folky – yet properly twisted and primal
Time Out London
Tracklisting
CD Album (CRAM 144)
Akron/Family

- Everyone Is Guilty

Akron/Family

- River

Akron/Family

- Creatures

Akron/Family

- The Alps & Their Orange Evergreen

Akron/Family

- Set 'Em Free

Akron/Family

- Gravelly Mountains of the Moon

Akron/Family

- Many Ghosts

Akron/Family

- MBF

Akron/Family

- They Will Appear

Akron/Family

- Sun Will Shine (Warmth of the Sunship Version)

Akron/Family

- Last Year
12" Vinyl Double Album (CRAM 144LP)
Akron/Family

- Everyone Is Guilty

Akron/Family

- River

Akron/Family

- Creatures

Akron/Family

- The Alps & Their Orange Evergreen

Akron/Family

- Set 'Em Free

Akron/Family

- Gravelly Mountains of the Moon
Akron/Family

- Many Ghosts
Akron/Family
- MBF
Akron/Family
- They Will Appear
Akron/Family
- Sun Will Shine (Warmth of the Sunship Version)
Akron/Family
- Last Year
Download Album (CRAM 144)