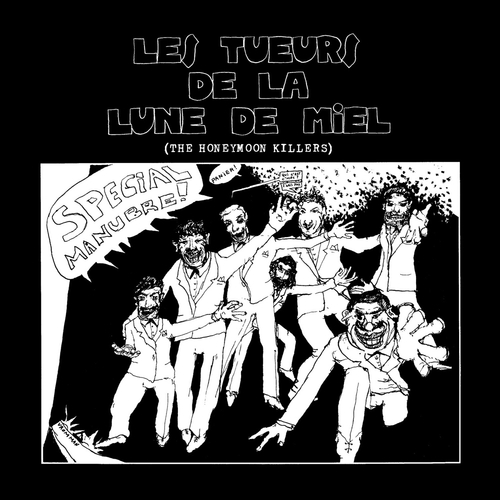 Special Manubre
Available Formats
Tracks
Price
Buy
CD Album
17 tracks

£

9.99

Download Album (

MP3

)
17 tracks

£

7.99

Download Album (

FLAC

)
17 tracks

£

7.99
Description
Les Tueurs De La Lune De Miel / The Honeymoon Killers - Special Manubre

Les Tueurs were an early incarnation of the band later widely known as The Honeymoon Killers. Consisting of of an assortment of miscreants, taxi drivers, cooks, professional gamblers and other musical delinquents who performed a massacre on all genres,from rockabilly and punk to marching band music, French chanson and free jazz.
They were led by Yvon Vromman and recorded the savage "Special Manubre" album in 1977. Includes previously-unreleased live versions of Jimi Hendrix's Machine Gun and Dick Annegarn's Bébé Eléphant.
Reviews
"Les Tueurs de la lune de miel" are a funny band. Or, at any rate, they think they're funny, just like they think they make music.
There are three tall musicians (sic) and three middle-sized musicians among the "Tueurs de la lune de miel". Generally, short people are mean, ugly and smart as monkeys, and the tall ones are slender and foppish, but not very clever. With "les Tueurs", it's the opposite; unless it's the contrary.
The guitarist (Gerald!) has a horrible sound, everyone tells him so, but he thinks they're just teasing him. The difference between what he thinks he plays and what he really plays is pathetic (in my opinion).
The bass player is so out of tune that, for a long time, people believed that he was one song ahead of the others. The drummer (Jean-François) is so deaf that they have to mime the pieces for him, which adds a dramatic dimension to the already abnormally unbearable stage presence of the "Tueurs"
The sax and the trumpet play in such an incontrollable and weird manner that each one of them thinks he plays what the other does, it's so appalling that one hesitates to dwell on this longer.
As for the guitarist-saxophonist-singer (!), Yvon, he's the wicked inspirer of the band. Without him, the "Tueurs" would have renounced their misdeeds, to the great relief of all honest belgian citizens. without his evil influence, the other members of the band would never have gone down the slippery path of musical delinquence.
Save civilization! don't buy the album by the "Tueurs de la lune de miel" !
Marc Moulin (1977)
Tracklisting
CD Album (CRAM 141)
Les Tueurs De La Lune De Miel / The Honeymoon Killers

- Mononucleose

Les Tueurs De La Lune De Miel / The Honeymoon Killers

- Spoeida Menneke

Les Tueurs De La Lune De Miel / The Honeymoon Killers

- Oh Suzanna

Les Tueurs De La Lune De Miel / The Honeymoon Killers

- Les Petits Oiseaux

Les Tueurs De La Lune De Miel / The Honeymoon Killers

- La Brabançonne

Les Tueurs De La Lune De Miel / The Honeymoon Killers

- Trois Petites Notes De Musique

Les Tueurs De La Lune De Miel / The Honeymoon Killers

- Blankenberghe

Les Tueurs De La Lune De Miel / The Honeymoon Killers

- Petit Papa Noel

Les Tueurs De La Lune De Miel / The Honeymoon Killers

- La Leçon De Twist

Les Tueurs De La Lune De Miel / The Honeymoon Killers

- Oh Carol

Les Tueurs De La Lune De Miel / The Honeymoon Killers

- Fermeture Du Cafe Des Sports

Les Tueurs De La Lune De Miel / The Honeymoon Killers

- La Mauvaise Reputation

Les Tueurs De La Lune De Miel / The Honeymoon Killers

- Goodbye Hawai

Les Tueurs De La Lune De Miel / The Honeymoon Killers

- Machine Gun

Les Tueurs De La Lune De Miel / The Honeymoon Killers

- Ou Peut-On Etre Mieux…

Les Tueurs De La Lune De Miel / The Honeymoon Killers

- Bebe Elephant

Les Tueurs De La Lune De Miel / The Honeymoon Killers

- Chamberiere, Chamberiere
Download Album (CRAM 141)