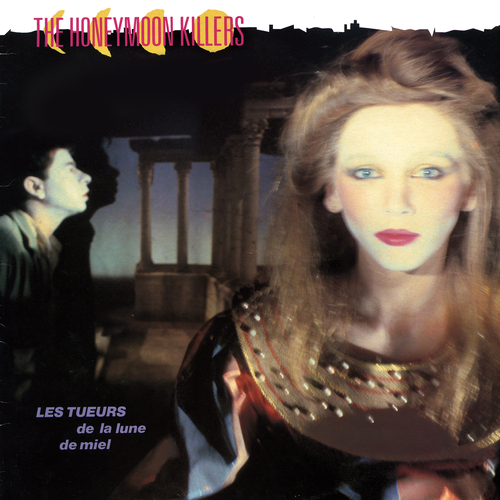 Les tueurs de la lune de miel
Available Formats
Tracks
Price
Buy
CD Album
18 tracks

£

9.99

12" Vinyl Album
10 tracks

£

15.99

Download Album (

MP3

)
18 tracks

£

7.99

Download Album (

FLAC

)
18 tracks

£

7.99
Description
The Honeymoon Killers|Les Tueurs De La Lune De Miel - Les tueurs de la lune de miel
This much sought-after album created quite a sensation in the early '80s, and got the band to become the darlings of the UK music press whilst appearing on mainstream pop shows on French TV. Fronted by the late Yvon Vromman, The Honeymoon Killers were a provocative band with a strong pop sensibility, and their delirious live shows gained them a following across Europe. 

The band included vocalist Véronique Vincent (whose Ex-Futur Album with Aksak Maboul was recently released), Marc Hollander (Crammed boss & Aksak Maboul originator), Vincent Kenis (Congotronics/Aksak Maboul), Gerald Fenerberg, and  Jeanf Jones Jacob III.

The LP version is reissued with its artwork. It contains an insert with texts and pictures, as well as a digital download code for the album plus 8 bonus tracks. 
Reviews
"Voluptuous, tearing, stamping, petulant…The sparks are ritualistic and still hilarious. Damn the solemn ! A truly Nietzschean stand-up comic spirit is at work here ... Hats off to any band that can cover a Serge Gainsbourg song and still sound like Talking Heads-meet-Pinky & Perky... They are embarrassingly fashion-free... a vast charm of their own..."(NME, UK, 82)
"Legendary and psychopathic Belgian band The Honeymoon Killers have given birth to a monster album. A chaos of psychopathic dwarves, spiked with shrieks, scratched guitars, fairground organ and mongoloid percussion. Barked by a Killer with a sore throat or whispered by a suave nymph, their lyrics push the limits of organised insanity" (Actuel, France, '82)
"Somewhere between Maurice Chevalier and James Chance.... post-punk aesthetics, hammered rhythms, a rare mixture of sonic agression and discipline... Véronique Vincent sings like a deranged pop idol, smiles like Bardot but stays as cool as a refrigerator... as for Yvon Vromman, he's the bogeyman of rock" (Frankfurter Allgemeine Zeitung, Germany, 81)
Tracklisting
CD Album (CRAM 103)
The Honeymoon Killers|Les Tueurs De La Lune De Miel

- Flat

The Honeymoon Killers|Les Tueurs De La Lune De Miel

- Histoire A Suivre

The Honeymoon Killers|Les Tueurs De La Lune De Miel

- Decollage

The Honeymoon Killers|Les Tueurs De La Lune De Miel

- Rush

The Honeymoon Killers|Les Tueurs De La Lune De Miel

- Fonce A Mort

The Honeymoon Killers|Les Tueurs De La Lune De Miel

- J4

The Honeymoon Killers|Les Tueurs De La Lune De Miel

- Route Nationale 7

The Honeymoon Killers|Les Tueurs De La Lune De Miel

- Ariane

The Honeymoon Killers|Les Tueurs De La Lune De Miel

- Laisse Tomber Les Filles

The Honeymoon Killers|Les Tueurs De La Lune De Miel

- L'Heure De La Sortie

The Honeymoon Killers|Les Tueurs De La Lune De Miel

- Wait And See

The Honeymoon Killers|Les Tueurs De La Lune De Miel

- The Lady And The Pig-man

The Honeymoon Killers|Les Tueurs De La Lune De Miel

- A Deep Space Romance

The Honeymoon Killers|Les Tueurs De La Lune De Miel

- Petit Matin

The Honeymoon Killers|Les Tueurs De La Lune De Miel

- Thank You Mr GB

The Honeymoon Killers|Les Tueurs De La Lune De Miel

- A.T.A.

The Honeymoon Killers|Les Tueurs De La Lune De Miel

- Alluvions

The Honeymoon Killers|Les Tueurs De La Lune De Miel

- Truc Turc
12" Vinyl Album (CRAM013LP)
The Honeymoon Killers

- Histoire À Suivre

The Honeymoon Killers

- Décollage

The Honeymoon Killers

- Fonce À Mort
Download Album (CRAM 103)
The Honeymoon Killers|Les Tueurs De La Lune De Miel

- Flat

The Honeymoon Killers|Les Tueurs De La Lune De Miel

- Rush

The Honeymoon Killers|Les Tueurs De La Lune De Miel

- J4

The Honeymoon Killers|Les Tueurs De La Lune De Miel

- Route Nationale 7

The Honeymoon Killers|Les Tueurs De La Lune De Miel

- Ariane

The Honeymoon Killers|Les Tueurs De La Lune De Miel

- Laisse Tomber Les Filles

The Honeymoon Killers|Les Tueurs De La Lune De Miel

- L'Heure De La Sortie