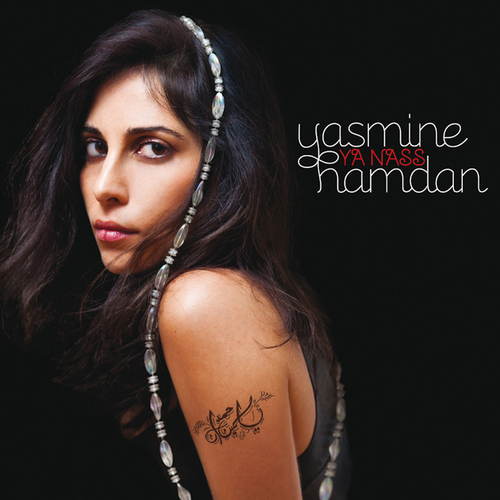 Ya Nass
Available Formats
Tracks
Price
Buy
CD Album
13 tracks

£

9.99

12" Vinyl Album
13 tracks

£

15.99

Out of stock

Download Album (

FLAC

)
13 tracks

£

7.99

Download Album (

MP3

)
13 tracks

£

7.99

Download individual tracks
From £0.79
Description
Yasmine Hamdan - Ya Nass
Here's the debut solo album by Yasmine Hamdan, written and produced in collaboration with Marc Collin (Nouvelle Vague).

Yasmine became known with Soapkills, the duo she founded in Beyrouth, which must have been the first indie/electronic band to appear in the Middle East. The music of Soapkills quickly became the soundtrack to the vibrant, young arts scene which developed in postwar Lebanon, the band gradually acquired an emblematic status and, to this day, Yasmine is considered as an undergound icon throughout the Arab world.

Yasmine moved to Paris a few years ago, and started working with Mirwais (who was part of French electronic new wave band Taxi Girl in the 80s, and produced/co-wrote Madonna's "Music" as well as the "American Life" album). Under the Y.A.S. moniker, Yasmine and Mirwais recorded the "Arabology" album, which came out in 2009.

After collaborating with CocoRosie for a while, Yasmine teamed up with Nouvelle Vague mastermind Marc Collin to create this mesmerizing opus.

In order to write the melodies and the lyrics for these songs, Yasmine drew from the repertoire and the attitude of great Arab women singers from the middle of the 20th century, including some little-known or half-forgotten figures, such as Aisha El Marta, Nagat El Saghira, Asmahan, Shadia, Mounira El Mehdeyya and many more. Yasmine (who is an avid collector of records from that era) is inspired by these women, by the mischievous sensuality and the subtle, ironic social criticism which pervades their lyrics, and which is reminiscent of a period of freedom and emancipation in the history of Middle-Eastern societies.

While Yasmine's vocals are definitely connected to traditions of Arabic music (to which she takes a personal, unconventional and fresh approach), the structures and arrangements of the songs are very remote from its codes. They might be described as a kind of elegant, mutant strain of electro folk pop, mysteriously springing from somewhere in the Persian Gulf… with acoustic guitars, vintage synths, inspired atmospheres and  Yasmine's multi-faceted, wonderful voice.

One element which may be lost to our Western ears is Yasmine's playful use of various dialects of Arabic in her lyrics, which alternate between Lebanese, Kuwaiti, Palestinian, Egyptian and Bedouin, and use a lot of the code-switching and references so typical of Middle-Eastern humour.
Tracklisting
CD Album (CRAM210)
Yasmine Hamdan

- Deny

Yasmine Hamdan

- Shouei

Yasmine Hamdan

- Samar

Yasmine Hamdan

- Enta Fen, Again

Yasmine Hamdan

- La Mouch

Yasmine Hamdan

- Nediya

Yasmine Hamdan

- Beirut

Yasmine Hamdan

- Aleb

Yasmine Hamdan

- Bala Tantanat

Yasmine Hamdan

- In Kan Fouadi

Yasmine Hamdan

- Hal

Yasmine Hamdan

- Khayyam

Yasmine Hamdan

- Ya Nass
12" Vinyl Album (CRAM210LP)
Yasmine Hamdan

- Deny

Yasmine Hamdan

- Shouei

Yasmine Hamdan

- Samar

Yasmine Hamdan

- Enta Fen, Again

Yasmine Hamdan

- La Mouch

Yasmine Hamdan

- Nediya

Yasmine Hamdan

- Beirut

Yasmine Hamdan

- Aleb

Yasmine Hamdan

- Bala Tantanat

Yasmine Hamdan

- In Kan Fouadi

Yasmine Hamdan

- Hal

Yasmine Hamdan

- Khayyam

Yasmine Hamdan

- Ya Nass
Download Album (CRAM210.1)