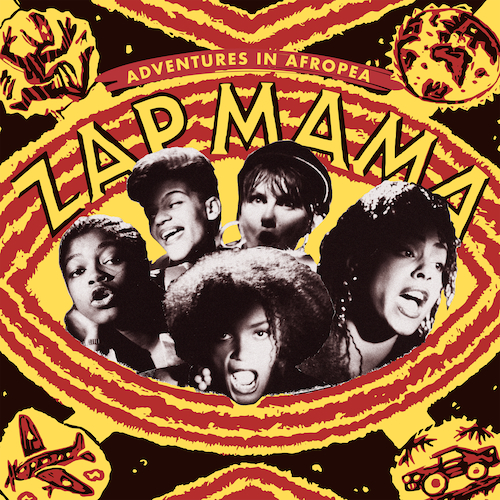 Zap Mama
Available Formats
Tracks
Price
Buy
CD Album
16 tracks

£

9.99

12" Vinyl Album
16 tracks

£

15.99

Download Album (

MP3

)
16 tracks

£

7.99

Download Album (

FLAC

)
16 tracks

£

7.99
Description
Zap Mama - Zap Mama
Originally released on Crammed in 1991, Zap Mama's acapella debut album has become a classic, and influenced hosts of vocalists and musicians around the world.

The brainchild of founder and leader Marie Daulne, Zap Mama consisted at the time of five young women who, inspired by their mixed African/European origins and by the cosmopolitan environment of their hometown Brussels, created a wonderful acapella body of work incorporating influences drawn from Congolese pop, Arabic tunes, Pygmy polyphonics & more (including a touch of gospel and of medieval Spanish chants), guided above all by their wild imagination.

The beauty and freshness of their vocal harmonies, coupled with an entertaining and humorous live show generated tremendous enthusiasm worldwide. Audiences were conquered by their sound and personalities, by their formidable demonstration of the quasi-magical powers of the human voice, but also by the message which was implicitly conveyed: Zap Mama seemed to embody and glorify the virtues of joyful, creative and unfettered cultural blending. They unassumingly outlined the shape of a positive, forward-looking "identity" which could emerge from a personal and collective history which has often been convoluted, difficult and transcontinental.

That message seems to be as relevant today as it was then: the term "Afropea" (coined by Zap Mama leader Marie Daulne with David Byrne, on the occasion of the album's reissue on the latter's Luaka Bop label, with whom Crammed entrusted distribution in the US) is now being increasingly used, some 28 years after the initial release of the album. Among others by UK writer Johny Pitts, who credits this very word "Afropean" for helping him reframe his identity as a black European, and for prompting him to embark on a journey which led to his recent book Afropean: notes from Black Europe

Produced by Crammed's Vincent Kenis (who later went on to produce Konono N°1 etc).

Back in 1991, Zap Mama consisted of Sabine Kabongo, Sylvie Nawasadio, Cecilia Kankonda, Céline 'tHooft and Marie Daulne, the band's founder and main composer. The album was recorded in Brussels at Crammed's erstwhile in-house studio. It was produced by Vincent Kenis (known for his work with Konono N°1, Kasai Allstars, Staff Benda Bilili, Taraf de Haïdouks and many more), and coproduced by former band member Fanchon Nuyens (also former vocalist/bassist with Brussels rock band Des Airs). Incidentally, Zap Mama and Crammed's respective approaches were so obviously convergent that the two entities were meant to collaborate fruitfully…

Zap Mama/Adventures in Afropea became one of Crammed's all-time best selling records. It was nominated for a Grammy, and topped the Billboard's world music chart. Zap Mama toured on all continents, and recorded a 2nd album for Crammed in 1994. Marie Daulne then continued on her own, went on to record six more (largely non-acapella) albums, always pursuing her transcultural trajectory and working on building bridges between Europe, America and postcolonial Africa.

Tracklisting
CD Album (CRAW 3)
Zap Mama

- Mupepe

Zap Mama

- Ndje Mukanie

Zap Mama

- Abadou

Zap Mama

- Marie-Josee

Zap Mama

- Etupe

Zap Mama

- Nabombeli Yo

Zap Mama

- Take Me Coco

Zap Mama

- Son Cubano

Zap Mama

- Guzophela

Zap Mama

- Plekete

Zap Mama

- Bottom

Zap Mama

- I Ne Suhe

Zap Mama

- Mizike

Zap Mama

- Babanzele

Zap Mama

- Din Din

Zap Mama

- Brrlak!
12" Vinyl Album (CRAW 3LP)
Zap Mama
- Brrrlak!
Download Album (CRAW 3)